ISO 21001 - Management Systems for Educational Organizations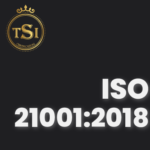 ISO 21001, Educational organizations – Management systems for educational organizations – Requirements with guidance for use, is intended to meet this challenge by defining management system requirements that will help education providers better meet the needs and expectations of learners and other beneficiaries, and demonstrate credibility and greater impact. This new International Standard developed by the project committee ISO/PC 2881) focuses on the specific interactions between educational institutions, students and other customers. Stand-alone standard, and based on ISO 9001, and harmonized with other ISO management system standards through the implementation of HLS (High Level Structure) Educational organizations will benefit by providing a more impactful and relevant educational experience that aligns with the organization's mission and vision. Learners will benefit more because the educational services they receive can be more personalized and according to their needs, which ultimately leads to better educational outcomes.
Benefits of a Management Systems for Educational Organizations :
Globally recognized Certification

Decrease in number of incidents and enhancement of incident management

Increased customer satisfaction with quality service delivery

Ability to manage and protect the organization, assets, stakeholders and management

Improving organization reliability

Improvement of response times with minimal disruptions to IT service.