ISO 13485:2016 - Medical devices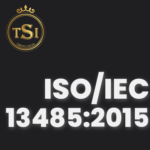 ISO 13485 certification is an international standard published in 2016 which is a specialized quality management system for the medical device industry. This standard has just been revised with a new version published in March 2016. The main objective of this standard is to facilitate quality management system requirements that are in line with regulatory objectives in the medical device sector. This standard is based on ISO 9001, but includes additional requirements specific to the medical equipment/medical device business sector. Implementation of ISO 13485 can help reduce unexpected risks and can improve company management.
Benefits of a Management Systems for Educational Organizations :
Pruning processes increases efficiency resulting in significant time and cost savings.

Gain a competitive advantage with independent and globally recognized third party certifications.

The source for all your testing and certification needs.

Providing experience, expertise and international competition in the medical equipment market.

Facilitate planning, control, monitoring, prevention and improvement, audit and review activities to ensure that policies are adhered to and that management systems remain in compliance.

Ensure compliance with standards and other requirements.