ISO 22000 - Food Safety Management System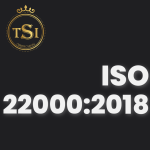 Food manufacturers at every step of the supply chain need to ensure the safe production, manufacture, preparation, display or serving, packaging, storage, handling, transport or distribution of food.
ISO 22000 food safety certification gives buyers the confidence that you identify and control food safety risks. Achieving ISO 22000 provides independent verification that your organisation employs an effective food safety management system.
ISO 22000 dovetails with the ISO 9001, ISO 14001 and ISO 45001 management standards.
Benefits of a Food Safety Management System:
Prove the quality of your food safety

Reassure distributors and customers

Ensure consistent tracing of ingredients and products

Meet hygiene regulations

Gain customer recognition and approval.