ISO/IEC 27001 - Information Security Management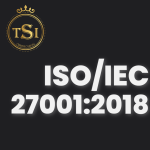 ISO/IEC 27001 certification, part of the growing ISO/IEC 27000 family of standards, is an Information Security Management System (ISMS) standard published in October 2013 by the International Organization for Standardization (ISO) and the International Electrotechnical Commission (IEC). Its full name is ISO/IEC 27001:2013 – Information technology — Security techniques — Information security management systems (ISMS) — Requirements but it is commonly known as "ISO 27001". An ISMS (Information security management system) is a system to manage a company's information security.
Benefits of a Information Security Management :
demonstrated due diligence by meeting regulatory and customer requirements

meeting international best practice for security

meeting tender requirements and stand out from the competition

improved reputation and enhanced company profile

reduced risk of fraud, information loss and disclosure

all forms of information, ensuring confidentiality, integrity and availability of data secured

easily integrated with other management systems.